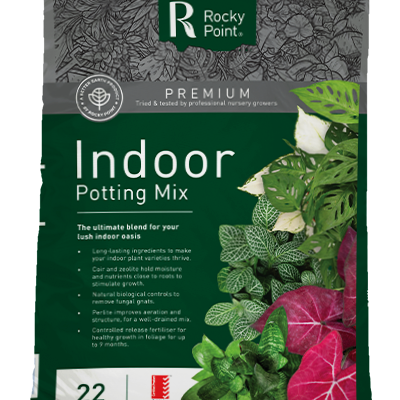 Rocky Point Indoor Pot Mix 10lt Bag
Rocky Point Indoor Potting Mix has been developed by our Growing Intelligence Experts to suit a wide variety of indoor plant types. Our unique formula is developed with natural biological controls to prevent fungal gnats in our product.
This tried and tested blend of coir fibre & chip, peat, perlite and other beneficial trace elements deliver micronutrients while your plants grow. Designed to be the ideal balance between water holding, drainage and air flow to help your plants thrive.
Enjoy fresh new plant growth as this mix will feed your indoor plants for up to 9 months, thanks to the controlled release fertiliser addition.
AVAILABLE IN 22L BAGS
Features & Benefits:
Long-lasting ingredients to make your indoor plant varieties thrive.
Coir and zeolite hold moisture and nutrients close to roots to stimulate growth.
Natural biological controls to remove fungal gnats.
Perlite improves aeration and structure, for a well-drained mix.
Controlled release fertiliser for healthy growth in foliage for up to 9 months
Click and Collect
You can order online and collect instore. We will email you when your order is ready to collect.
Delivery
Here at Redback, we deliver our products across south east Queensland using our own fleet of trucks. Bulk products, including bricks, blocks and pavers, are either tipped or offloaded using a crane or forklift truck. To make sure we place products in the right location, at the checkout, please specify where on site you would like your delivery. Unfortunately once the products have been lifted or tipped, they cannot be moved.
When you place your order, please select your preferred truck size, delivery day & delivery window
We will then contact you to confirm your estimated 4 hour delivery window for crane deliveries, and 2 hour delivery window for tipper truck deliveries .
Delivery Costs vary depending on suburb.
Urgent Delivery
If you are after an urgent delivery please call the sales team on (07) 3219 7456.
Didn't find what you were looking for?
Get in touch with us and we'll help in anyway we can!