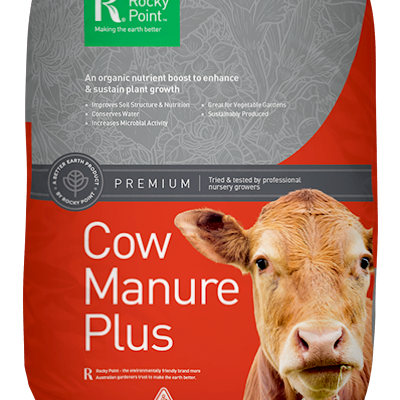 Rocky Point cow manure Plus 30L Bag
Plants flourish in Rocky Point low-odour Cow Manure because of its ability to simultaneously increase
water retention whilst boosting nutrient-producing microbial activity.
This dual action effect is perfect for growing healthy veggies and is safe to use on any plant in your
garden.
Certified organic this enriched blend of composted, mature cow manure is a natural choice for any
gardener looking to grow healthy produce at home.
AVAILABLE IN: 30 L BAGS
Benefits of Rocky Point Cow Manure:
Cow Manure is fully composted, therefore very low in odour
Provides excellent amounts of organic matter and nutrient into the soil
Cow Manure is a great retainer of moisture for the soil
Improves the soil structure and encourages earthworms and microbial activity
Product is environmentally friendly
Promotes plant growth in a natural organic way
Prepared and tested under strict conditions, this product is certified as an Australian Certified Organic Allowed Input
Click and Collect
You can order online and collect instore. We will email you when your order is ready to collect.
Delivery
Here at Redback, we deliver our products across south east Queensland using our own fleet of trucks. Bulk products, including bricks, blocks and pavers, are either tipped or offloaded using a crane or forklift truck. To make sure we place products in the right location, at the checkout, please specify where on site you would like your delivery. Unfortunately once the products have been lifted or tipped, they cannot be moved.
When you place your order, please select your preferred truck size, delivery day & delivery window
We will then contact you to confirm your estimated 4 hour delivery window for crane deliveries, and 2 hour delivery window for tipper truck deliveries .
Delivery Costs vary depending on suburb.
Urgent Delivery
If you are after an urgent delivery please call the sales team on (07) 3219 7456.
Didn't find what you were looking for?
Get in touch with us and we'll help in anyway we can!