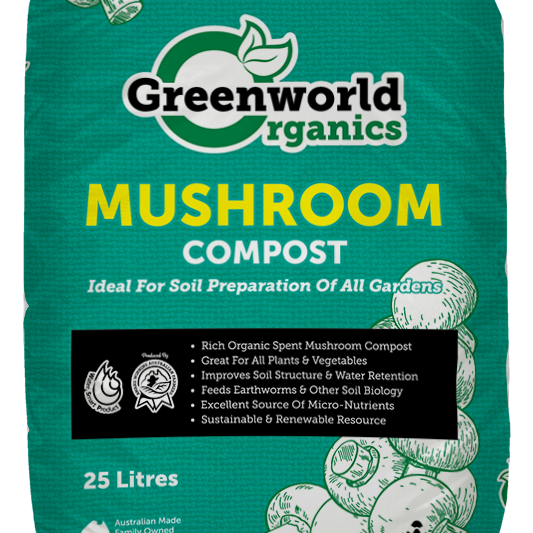 Greenworld Mushroom Compost 25L Bag
Mushroom Compost great for all plants and vegetables
Greenworld Organics Mushroom Compost is a brilliant and nutrient enriched blend for your garden.
Rich Organic Spent Mushroom Compost
Great For All Plants & Vegetables
Improves Soil Structure & Water Retention
Feeds Earthworms & Other Soil Biology
Excellent Source of Micro-Nutrients
Sustainable & Renewable Resource
Greenworld Organics Mushroom Compost is a high quality, pure spent mushroom compost mix that meets strict testing standards in line with Australian Standards 4454. Used successfully by expert home gardeners with excellent results; it immediately provides excellent soil conditioning by improving soil structure and nutrition.
Mushroom Compost will assist in naturally loosening up compacted soils by adding much needed organic matter. In turn, this leads to superior soil aeration, increased wettability and fertiliser efficiency. Greenworld Organics Mushroom Compost is an excellent source of micro-nutrients that may be overlooked by gardeners such as boron, cobalt, copper, iodine, iron, manganese, molybdenum and zinc.
AVAILABLE IN: 25 L BAGS
Simple Directions:
It is recommended to wear gardening gloves when handling and using all planting materials. Greenworld Organics Mushroom Compost can be used in many ways. It is designed to save time and money, and is guaranteed to produce excellent results season after season.
Add to existing garden beds:
After removing weeds, apply 50-100mm later of Greenworld Organics Mushroom Compost over the top of your soil
Dig in well to a depth of at least 150mm
For best results, leave for approximately 7 days prior to planting.
For planting into the ground:
Place at lease 100mm of Greenworld Organics Mushroom Compost at the bottom of a hole that is twice the size of the pot.
Place plant in hole and back fill to ground level with Greenworld Organics Mushroom Compost.
Drench the improved soil with water and mulch as required.
For best results, leave for approximately 7 days prior to planting.
Click and Collect
You can order online and collect instore. We will email you when your order is ready to collect.
Delivery
Here at Redback, we deliver our products across south east Queensland using our own fleet of trucks. Bulk products, including bricks, blocks and pavers, are either tipped or offloaded using a crane or forklift truck. To make sure we place products in the right location, at the checkout, please specify where on site you would like your delivery. Unfortunately once the products have been lifted or tipped, they cannot be moved.
When you place your order, please select your preferred truck size, delivery day & delivery window
We will then contact you to confirm your estimated 4 hour delivery window for crane deliveries, and 2 hour delivery window for tipper truck deliveries .
Delivery Costs vary depending on suburb.
Urgent Delivery
If you are after an urgent delivery please call the sales team on (07) 3219 7456.
Didn't find what you were looking for?
Get in touch with us and we'll help in anyway we can!