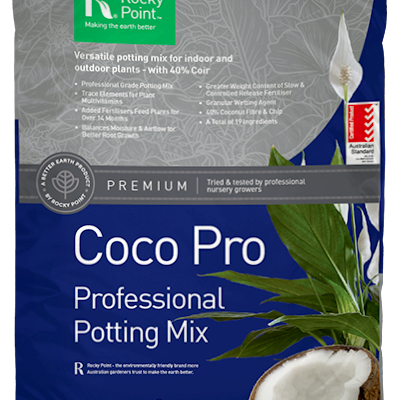 Coco Pro Potting Mix 30L Bag
Featuring premium quality slow and controlled release fertilisers, Coco Pro feeds and nourishes plants for over 14 months.
Coco Pro's professional nursery grade ingredients, together with a unique blend of coconut fibre and chip, act as an organic water saver and root stimulator to help a wide range of plants flourish in a natural, healthy growing environment. From vegetables and herbs, to large flowering ornamentals, from large terracotta pots to small seed boxes, Coco Pro makes the earth better in so many ways!
AVAILABLE IN: 30L & 50L BAGS
This production quality mix contains a blend of; slow and controlled released fertilisers which will feed your plants for up to 14 months; Coconut Fibre and Chip which act as organic water savers and root stimulators; and many other premium ingredients.
Designed to replace the need for multiple specialty potting mix bags, Coco Pro is ideal for:
All potted fruit trees, vegetables & herbs
Azaleas, Gardenias & Camellias
Annuals & Perennials
African Violets
Magnolias & Roses
Bromeliads & Cymbidiums
Palms & Ferns
Benefits of Rocky Point Coco Pro:
Professional Grade Potting Mix
Trace Elements for Plant Multivitamins
Added Fertilisers Feed Plants for Over 14 Months
Balances Moisture & Airflow for Better Root Growth
Greater Weight Content of Slow & Controlled Release Fertiliser
40% Coconut Fibre & Chip
Prepared and tested under strict conditions, this product is certified to Australian Standards 3743 for a Premium Grade Potting Mix
What's in Coco Pro?
Slow & Controlled Release Fertiliser – For 14 months of sustained feeding
Coconut Fibre & Coconut Chip – An organic water saver & root stimulator
Zeolite – For less fertilising & less watering
Trace Elements – Plant multivitamins
Sulphate of Potash – For more flowers & juicier fruit
Microbial Stimulants – Boosting microbiological activity
Coco Pro Professional Potting Mix complies with the Australian Standard 3743 for a premium potting mix. This standard is only awarded to products, which have undergone tests, and completely satisfy the guidelines set by SAI Global. This standard is evidence of Rocky Point's commitment to quality.
Click and Collect
You can order online and collect instore. We will email you when your order is ready to collect.
Delivery
Here at Redback, we deliver our products across south east Queensland using our own fleet of trucks. Bulk products, including bricks, blocks and pavers, are either tipped or offloaded using a crane or forklift truck. To make sure we place products in the right location, at the checkout, please specify where on site you would like your delivery. Unfortunately once the products have been lifted or tipped, they cannot be moved.
When you place your order, please select your preferred truck size, delivery day & delivery window
We will then contact you to confirm your estimated 4 hour delivery window for crane deliveries, and 2 hour delivery window for tipper truck deliveries .
Delivery Costs vary depending on suburb.
Urgent Delivery
If you are after an urgent delivery please call the sales team on (07) 3219 7456.
Didn't find what you were looking for?
Get in touch with us and we'll help in anyway we can!