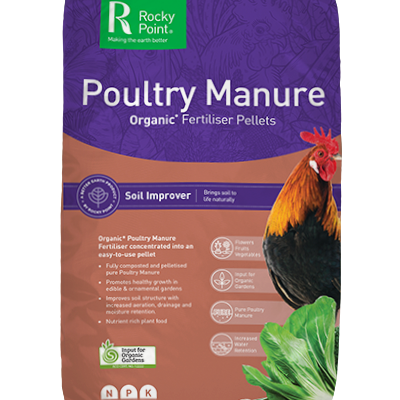 Organic Poultry Manure Fertiliser 25kg
As one of nature's great soil improvers Poultry Manure is the perfect choice for gardeners looking for an organic, environmentally friendly fertiliser. 
Application Rates:
As an indication, an adult hand holds approximately 50g. Water thoroughly after application.
Vegetable Beds & Flowers: Apply 150g-300g (approx. 3-6 handfuls) per square meter prior to planting. Then re-apply every 6 weeks during the growing season.
Planting Shrubs & Trees: Apply between 250g & 500g (approx. 5 to 10 handfuls) into the planting hole and mix with the soil.
Lawns: Apply 2-3kg for every 10 square metres. Water in thoroughly and immediately for best results.
Potted Plants: For a 20cm diameter pot use about 25g and for a 30cm diameter pot use about 50g. Water thoroughly.
Ornamental Roses & Shrubs: Apply 100g (approx. 2 handfuls) per square metre every 6-8 weeks from early Spring to mid Autumn. Keep fertiliser at least 8-10cm from the base, stem or trunk.
Azaleas, Native & Acid Loving Plants: Apply 50g (approx. 1 handful) per square metre, at least 10-15cm away from the trunk. Apply in Spring and Autumn.
Fruit Trees: Apply 500g (approx. 10 handfuls) per tree for each year of the trees age to a maximum of 3kg. Apply in Spring and Autumn. Ensure the fertiliser is spread out to beyond the drip line of the tree. Keep fertiliser away from the trunk or base.
Click and Collect
You can order online and collect instore. We will email you when your order is ready to collect.
Delivery
Here at Redback, we deliver our products across south east Queensland using our own fleet of trucks. Bulk products, including bricks, blocks and pavers, are either tipped or offloaded using a crane or forklift truck. To make sure we place products in the right location, at the checkout, please specify where on site you would like your delivery. Unfortunately once the products have been lifted or tipped, they cannot be moved.
When you place your order, please select your preferred truck size, delivery day & delivery window
We will then contact you to confirm your estimated 4 hour delivery window for crane deliveries, and 2 hour delivery window for tipper truck deliveries .
Delivery Costs vary depending on suburb.
Urgent Delivery
If you are after an urgent delivery please call the sales team on (07) 3219 7456.
Didn't find what you were looking for?
Get in touch with us and we'll help in anyway we can!